Story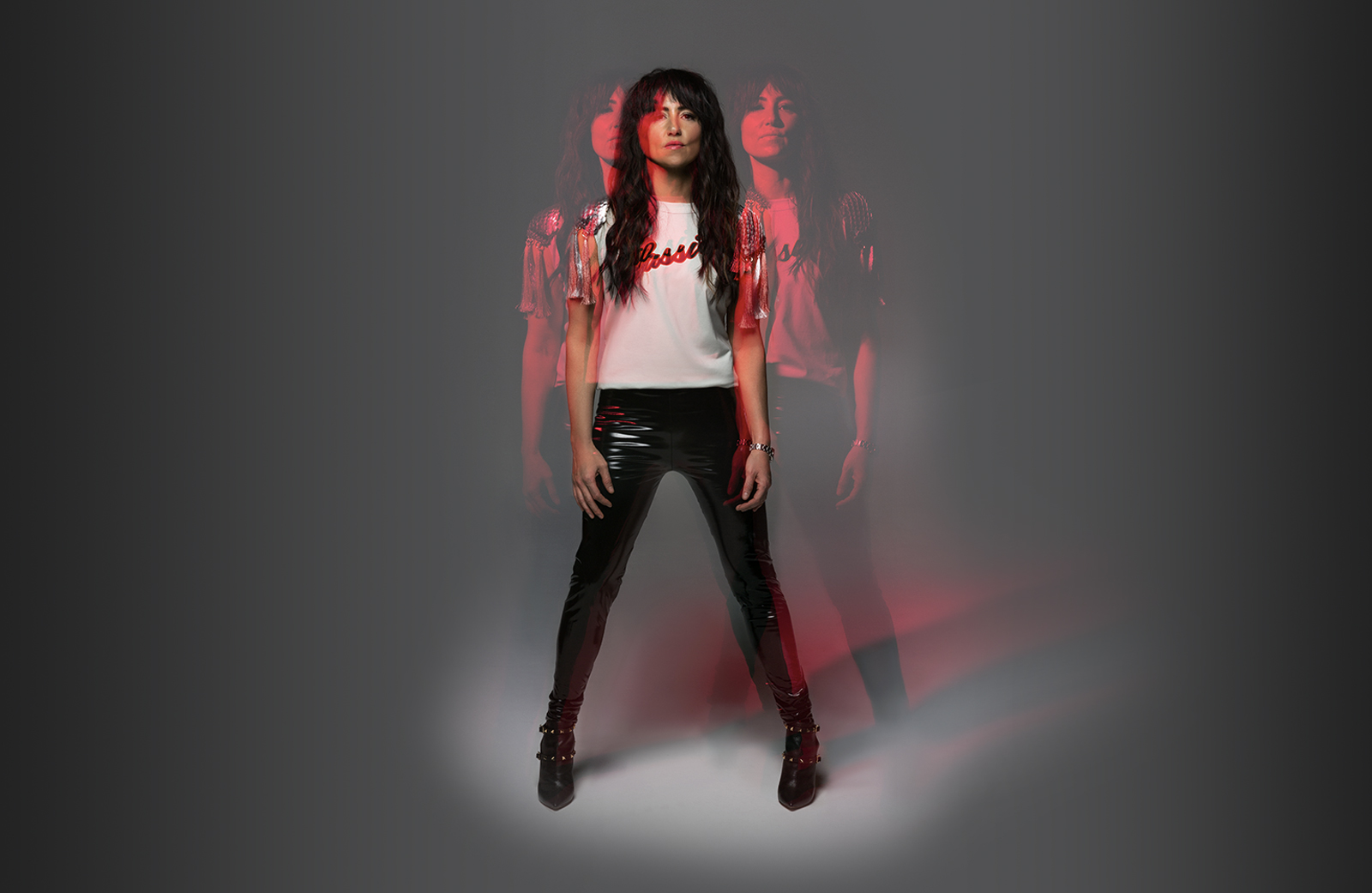 Sitting, eyes closed in the sunshine in Nashville's Centennial Park in Spring 2017 on tour, KT Tunstall had an epiphany. It encompassed both her last album, 'KIN', that entered the UK top 10 in 2016, and her as-yet-unrecorded sixth studio album.
There were some things she knew instantly. That moving to Los Angeles, whence she had relocated from London in autumn 2014, had been a life-saving move. That she was now in the midst of a trilogy of records, the latest exciting chapter in a career fuelled by a rocket-powered lift- off with 2004's 'Eye To The Telescope', her debut album which won the post- folkie from Scotland the Brit Award for Best British Female. That this trilogy would evoke, separately and in sequence, spirit, body and mind. That 'KIN' was already, happily, her spirit album.
"The last album felt like a real success for me, in that it reignited my desire to tour and make records. There was definitely a moment where that was dying," Tunstall admits. "I'd reached a point where making records felt quite stagnant and the whole cycle was feeling repetitive. One of the reasons I had wanted to become a musician was that I saw it as a constantly evolving way of life."
Prior to her LA relocation, the Ivor Novello winning, multi-million selling, Grammy-and-Mercury- nominated artist had gone through a divorce and the loss of her dad. Her world had been rocked to its foundations. Motivation naturally suffered. What price music when your personal life has collapsed? And what price music when you're an artist who's also a businesswoman, running your own affairs with the licensed help of a record label? As she puts it, "I'd somehow allowed myself to adhere to all these conventions, despite spending ten years grafting to create my own, custom- designed existence."
But living in Venice Beach, within strumming distance of the Pacific, Tunstall experienced a rebirth. She fell back in love with the west coast rock she'd always adored and with music in general. She fell back in love with herself.
"There was literally a rebirth of me as a happier, more thoughtful, more self-aware person with different priorities in my life. Writing and recording 'KIN' was a real unexpected pleasure; it was a way back in, to rediscover that feeling of purpose in going out and playing a gig for people, and essentially being a purveyor of joy for the night, whilst managing to tap into that deep sense of personal fulfilment in the process. Playing live is definitely a kinetic meditation for me."
What else did Tunstall know in that moment on the Tennessee grass (not that kind!)? That her new album would be her 'body' album. That it would be called 'WAX'. The title a nod to the viscous pungency of one of the body's natural substances. "Wax evokes colonies of bees, candlelight, the material that the first long-playing records were made of", she explains, "but more than that, wax is produced inside your own head. You unconsciously create it, and then weirdly that same basic substance has been used for centuries to make the most lifelike replicas of human beings. It has a life glow to it. It sticks to you. We have these strange, ancient connections and relationships with wax. How odd is it that the body produces all these substances from all these holes!" laughs this stoutly down-to-earth singer, songwriter and guitarist.
Finally, KT Tunstall knew how 'WAX' would sound. "I knew before I started writing that I wanted it to be an electric guitar record. It had to be visceral, about the physical, and the weight of that, and the obstacles of that. It's a record about human-ness, which we so often just write off as 'flaws'.
"It needed it to be lower chakra. Or, as my friend suggested when I explained that I wanted all 3 records to have 3-letter titles, "this is the 'VAG' record!"
Tunstall got quickly to (dirty) work. In summer 2017 she partnered up with ex-Franz Ferdinand multi- instrumentalist and writer Nick McCarthy in Sausage Studios in Hackney, northeast London. The producer/ writer, and his cupboard-sized Aladdin's cave-meets-scrapyard full of vintage keyboards and guitars, were exactly what she needed.
Five days of jamming and getting to know each other quickly became a hugely productive and meaningful working week of song-writing and dream-weaving.
Then, three weeks of quick-fire, inspired live recording.
In quick succession the new collaborators – aided by McCarthy's engineer and co-producer Seb Kellig – created a brace of belters. An early keeper was 'The Night That Bowie Died'. It transpired that on that sad day in January 2016, both Tunstall and McCarthy had been at creative turning points in their respective careers.
Entwining those thoughts and strands, they created this spartan, emotional blues.
"When you lose someone special to you, it changes your world. Bowie was definitely a world- stopper and you just felt this global collective heave at losing this guy. I recently went to the V&A Bowie exhibition in Brooklyn and I came out thinking: the guy was a living god. And he left this legacy of what is possible for a human to achieve in a lifetime. I felt his death reminded all of us at once of every death we've been through; how it feels to face that void.
"Writing that song was a real moment where Nick and I looked each other in the eye and knew we were making special work together. It got us both very emotional, and we had to take a minute to get our shit back together. So that song is a real vanguard."
Even more remarkable: in the heads-down, no-fuss spirit of 'WAX', Tunstall sang the vocal while crocked and supine in a chair, her freshly-sprained ankle from misjudging the studio steps, throbbing beneath a bag of corner-shop ice.
"I'm lying there in my homemade lazyboy, leg up, guitar plonked on top of me, in proper pain, singing and playing live – and that," she beams, "was the take!"
The strutting disco-rock pound of 'Human Being' was another gateway composition.
 

"That song is about being in the throes of the sexual, sensual, lustful beginnings of a relationship. And you've reached that place where you're going to have to show the other person all of who you are, rather than just the sexy shit you've been affecting to make them want you. It's about vulnerability, allowing someone to see everything – and wondering if they'll still be interested with all the lights on, literally and metaphorically speaking… all while channelling Moroder Blondie!"
Then there's 'The Mountain'. It's an atmospheric peak of a song in an album full of head-spinning highs, Tunstall's voice at its most intimate and soulful, McCarthy and Kellig's production at its most cosmically inventive, conjured from a "really low drone on this massive Yamaha keyboard that looks like a cross between a Hammond and a Humvee – and my Anchorman flute solo!" Tunstall hoots.
Lyrically, she explains that her going to LA wasn't "me running away. It was running to something – a wilful decision to find something new and disconnect from what had gone before. And it was a real surprise to find Venice Beach as a sanctuary. It was tranquil! A total bubble in the LA metropolis… even though it is a bit fucked and apocalyptic. But the fact is it is still the city, and I've always believed that there is a lonely mountain somewhere waiting patiently for me to go and live happily on it…"
There are similar sentiments in 'WAX's lead track, 'The River' – a proper scorcher that's destined to be a cornerstone of this reinvigorated rock-pop troubadour's live set.
"It was a bit of a puzzle to crack. It was an old idea that I always knew had great potential. But it could so easily be just a big, anthemic ballad and recorded as a straight torch song. But I knew the most exciting path for it was to have it mate with the electric guitar at the heart of this record and become a beast instead. The sensuality and physicalness, the dirt and grit that this album embraces, 'The River' is perfect for it – it's about wanting to escape – escape the bullshit and constraints and madness in the world, escaping bad relationships, and wanting to be washed clean. Emancipation through nature, it's always a theme I return to.
After a month with McCarthy, Tunstall moved to North West London to work on some additional production with stellar duo MyRiot (London Grammar, Birdy). "They basically injected steroids into the three-piece garage-rock tracks we'd done at Sausage Studios," is her concise summation of the work done by Tim Bran and Roy Kerr. "They are true digital and analogue craftsmen, those two. We pushed the material further than I had imagined we could during those sessions, without losing any of the rawness."
The final shaping of 'WAX' also involved song-writing collaborations from her frequent creative partner Martin Terefe and Kings Of Leon producer/ mentor Angelo Petraglia. Drumming duties from seasoned LA-based musician Denny Weston Jnr, and guitar from longstanding friend and collaborator Charlotte Hatherley, amongst others.
But at the heart of it is Tunstall. Whether it's the angular funk of 'In This Body', 'Little Red Thread''s Talking Heads-style disco punk, or the punchy swagger of the Patti Smith-evoking 'The Healer (Redux)', one thing is clear; 'WAX' is the sound of a rebooted, rerouted musician throwing herself bodily into the game and still eager to cover new ground.
It's apparent in the tunes. It's apparent in the "butter- and-steak" diet regime she's cheerfully embraced to physically project her body-con rock on her album sleeve and on stage – as Tunstall says with a lusty laugh, "the tunes are banging so I need to look banging!" And it's apparent in the enthusiastic, emphatic and downright sensual rock'n'roll adventurism on 'WAX'.
"There's a really good Kurt Vonnegut quote I've always loved: 'My soul knows my meat is doing bad things and is embarrassed. But my meat just keeps on doing bad, dumb things.' And that is it exactly. It's a beautiful connecting idea between 'KIN' and 'WAX'. Your Soul has to travel in this weird meat vehicle, and there's always going to be a level of primal dumbness to some of the decisions you make, the cravings you have, and the way you treat other people. We're all idiots sometimes. And sometimes we all do things just because they feel good.
"And making this record, well…" beams KT Tunstall, "that felt really good."
Read More